Product
Media Asset Management (MAM)
Content management, file ingest, transcoding, and collaborative video editing from a single and unified Web Interface.
Manage your media content regardless of where it is stored.
Access to multisite for full content management, transcoding & editing.
Handle your assets and associated metadata in and out of your premises from a single unified web interface.
Incite MAM is an advanced tool to handle ingest, metadata, logging, search, view, edit, and transcoding of media assets on anything from a single system to a networked environment. It has been developed from the ground up as an open architecture to meet the needs of broadcasters and video content producers.
The core idea behind INCITE MAM is to allow content producers to spend less time on locating material and to focus on their production. This means that journalists, producers and editors can start selecting material for the editing session with unparalleled ease.
The Incite MAM functions as a master in the production system and controls the media flow, project definition, and all metadata throughout the entire production.
With its web interface, users can search, browse, retrieve, and perform actions allowed by their profile even without accessing the storage directly.
Incite MAM has an integrated player window that allows operators to preview any content.
Incite MAM has a built-in full Web Editor which allows you to fully edit your story for news, sport, or Social Media.
Web live stream edit
Production asset management systems (PAM)
Enables publishing to multiple platforms in various formats from within the browser
It uses an SQL database to keep track of information about media files, associations between media files (multiple resolutions of the same media), metadata, user management, and project organization.
Organize your media assets into an archive
Content retrieval is made easy through the Disk Archive management. It enables users and operators to archive, retrieve and see the status of projects in the archive.
It has an open architecture that delivers integration with industry-standard video servers, disk storage, and LTO vendors.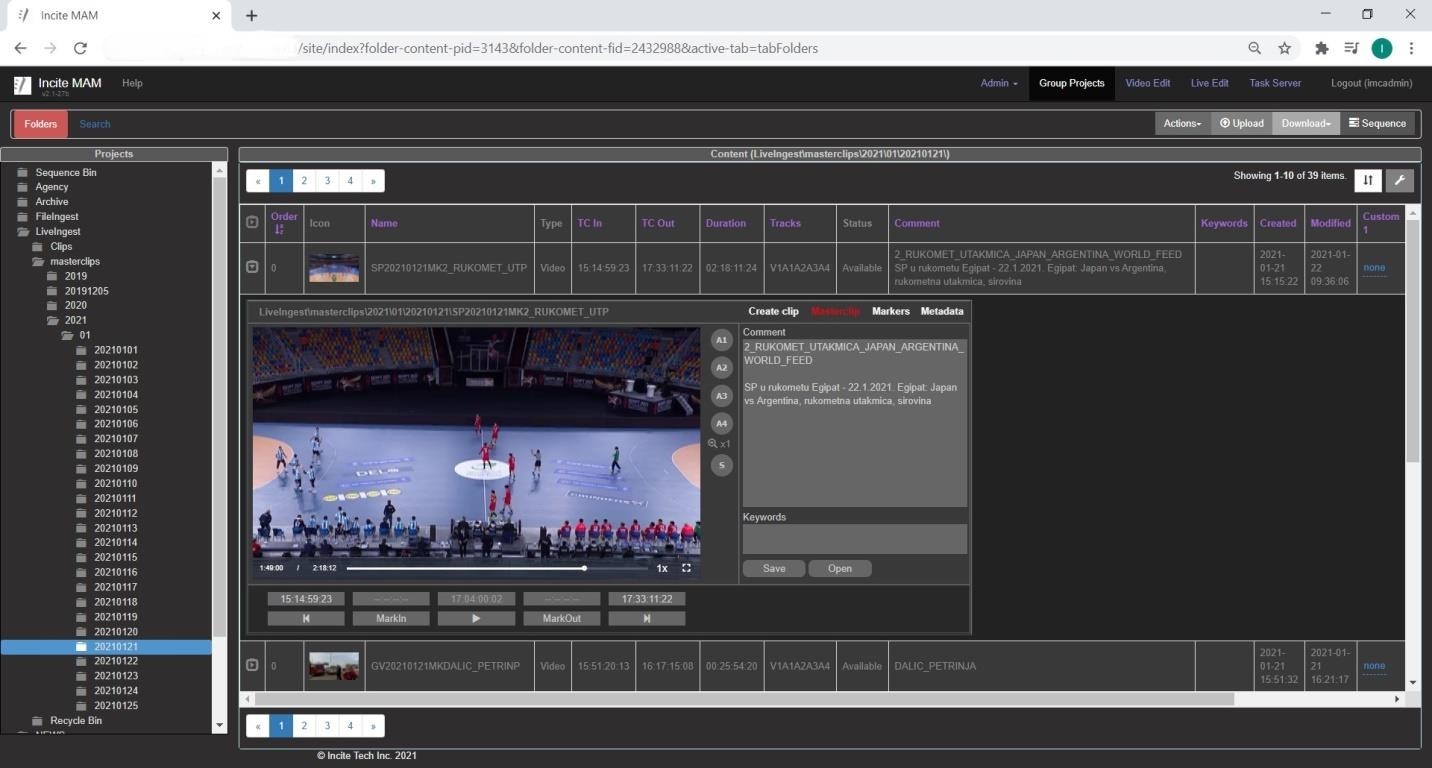 Figure 1 - Project View with a media preview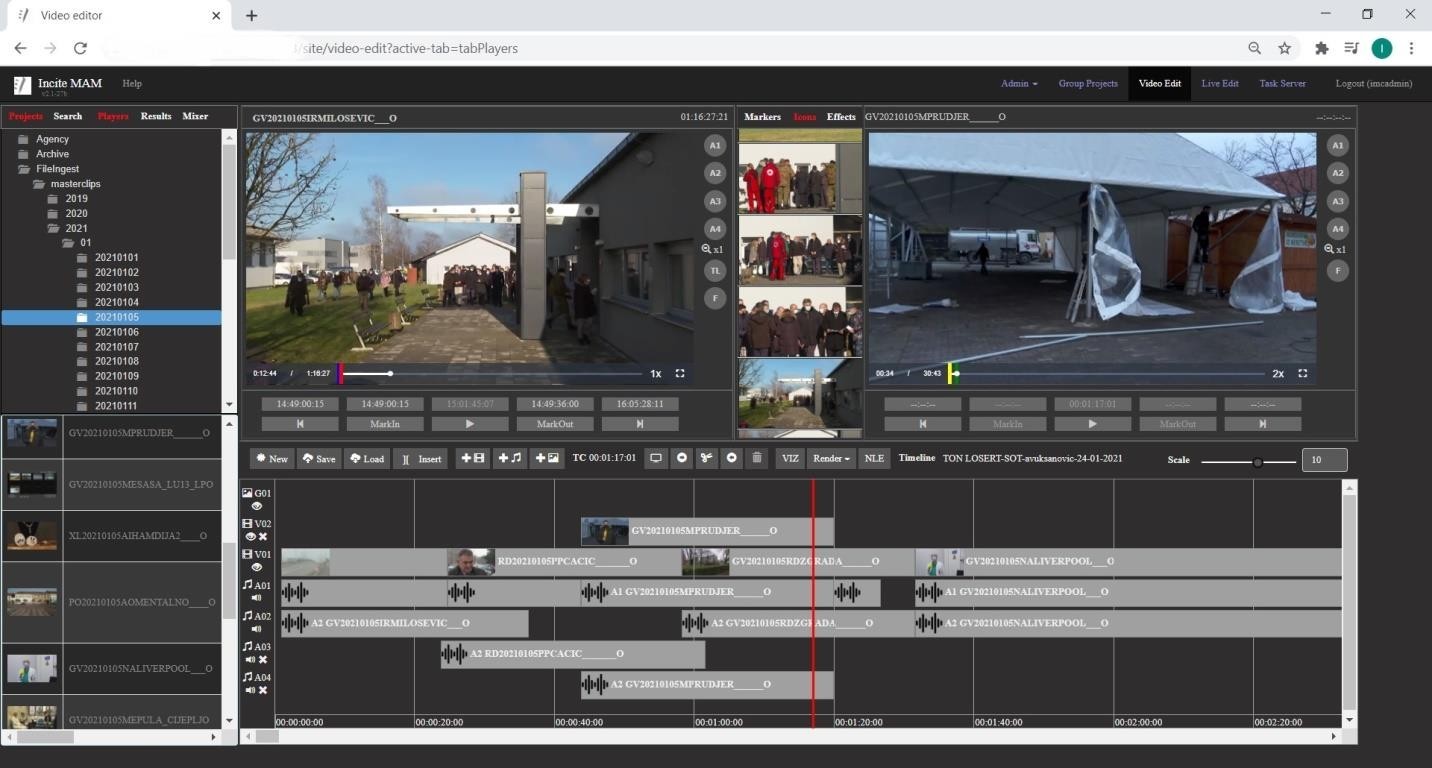 Figure 2 - Web Timeline Editor
Features
File-based and SDI Ingest directly to Project folder

Browse media

Proxy viewing

Logging

Transcoding

User management (attributes, logs, and Auditing, LDAP integration)

Ability to place custom watermark overlay on Viewing or the shared material.

Ability to define metadata fields: data types (drop downs, check boxes, free text), values, required/not required

Ability to tag multiple assets at a time

Capability to upload a variety of codecs including, camera raw, editorial (MXF, DNxHD, …), and file formats like .pdf, .doc, .txt, etc.

Capability for a specific user (based on defined role and permissions) to upload media to the system from local and/or remote locations and assign metadata.

Possibility to add Metadata on each frame (markers)

Automatic Clip creation (scene detections)

Easy and fast Metadata Cataloging with Predefined keywords

Project assignment

Predefined project folder structure

Reviewing and approval

Define storage workspace access per user/group

Automatic detection and insertion of files into a project

Web user interface (platform independent)

Editing from the web interface with graphics support

DVE, Audio Mixer, and Full Graphics support on Web Edit

Multiple timeline support

Adding of multiple Video, Graphics, and Audio layers on Web Edit Timeline

Audio gain per clip or Timeline

Support of Film/TV mode in editing (insert/overlap)

Direct Export of story with Different Aspect Ratios and/or format for NLE

Full subtitles support on Timeline, Creation, Import, and Export

Projects status for a quick summary of work completed

Generation of multi-format, multipurpose files for delivery to multiple platforms (eg. Broadcast, internet, mobile)

Clip creation to highlight interesting sections

Export to AAF and FCP XML of media, clips, or the entire project

Adobe plug-in, Native & Direct Plug CEP

Archive management of file and projects

Exchange media files even if no access to the storage

Advance cleanup of finished or archived projects

Enables rapid content creation through clipping functionality

Full Support of Growing Proxy Media in WEB Browser and WEB edit

Smart and Advanced Search criteria

Full support for non-video asset

Full support of streaming files (on import and export)

Advance Octopus support with Direct plug of our Web Editor inside Newsroom application

Full Media and Asset exchange with 3rd party system (PlayOut, CMS, Social Media, OTT, etc.)

Ability to generate a secure link to provide a simple screener/reviewer

Multi-language support

IMF support
Supported Video Codecs: (not exhaustive)
AVC-Intra, AVCHD, Canon XF MPEG2, Digital SLR, DVCAM, DVCPRO50, DVCPROHD, DPX, HDV, XDCAM
EX, XDCAM HD, XDCAM HD422, Sony XAVC, Sony RAW, Avid DNxHD, VC-3, Apple ProRes, QuickTime, Uncompressed 8-bit 4:2:2, Uncompressed 10-bit 4:2:2, MJPEG, JPEG2000, MPEG2/1, H264, HEVC
Integration with third-party solutions
Dalet News room
Octopus News room
Grass Valley workflow
Harmonic playout servers
Vizrt
Aveco automation
Avid editors
Adobe Editors
XenData
Tiger Space
Chyro traffic solution
Insync.tv
Youtube
Marquise Technologies Etc…
Minimum System Requirements:
OS: Windows Server 2012r2, 2016, 2019,2022 or Windows 10/11 (64-bit)
CPU: Recent single or dual Intel Xeon or i7, with multiple cores.
RAM: 32GB,
HDD: Fast local HDD/SSD for installation and database.
Network: Fast connection to media location and communication between nodes – 1Gbe
minimum.
How To Reach Us
Want to Send Us
A Message? Shoot!
Address: rue des Voisins 30, 1205 Geneva Switzerland