Product
Incite Media Producer
The True Power of Local , Remote & Network-based Editing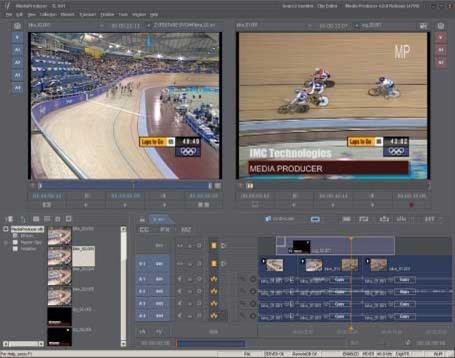 Incite Media Producer (MP) is a remote and network-based, codec- independent NLE editor designed to edit on any file format in fast-paced, collaborative newsroom environments. Taking full advantage of Incite's open architecture, Incite MP operates freely over a modern IT backbone, seamlessly editing centrally or locally stored media, exchanging projects with third party NLE's and interacting via MOS protocol with newsroom applications for project assignment, publishing and playout.
Incite MP lets you edit a wide range of the latest codecs and formats natively. This allows you simultaneous processing of several layers in real-time.
Using MP remote editing features allows you to edit any formats locally (laptop) and export (over ftp or https protocol), the project with consolidated media or not directly to the studio network environment for re-editing, finishing, or publishing to Incite Video Printer for video mix down for delivery. The result is a complete, digital workflow solution that takes full advantage of different networking architectures, different types of storage solutions and different file formats to maximize productivity throughout the facility.
Incite MAM WEB edit proxy architecture fully integrates with MP allowing you to start edit on the web edit user interface from any location and open the same timeline in MP for on-line finishing.
Incite MP provides a complete set of NLE editing tools, powerful audio mixer and real-time audio features, integration with 3rd party graphics engines, MOS Protocol support, and background or network-based rendering for video effects and transitions. In addition, Incite Media Producer MP is hardware independent, operating on standard laptops or PCs.
Codec Independent NLE Editor
Remote Editing
MOS protocol support
CEF plug in for NRCS remote export
Caspar CG Graphics support
Compatible with multiple Video servers
Export of Timeline to 3rd party NLE
Multi format export
Intuitive Interface for Journalists
Social Media content creation
Top Features for Incite Media Producer
Hardware-independent (requires no dedicated hardware)
Full network or remote capabilities for collaborative media, project and task sharing
Edit natively in most popular multimedia formats
MAM Proxy architecture interacts dynamically with on-line Incite MP editing
Instant Replay: Log and edit media while it is being digitized or transcoded
MOS support and unique ID preservation
Built in external graphics layer for 3rd party engines
OFX plugin
Background rendering and network-based render farming
Clip/media consolidation
Timeline export to multiple format
Export directly to 3rd party Video servers

INCITE' S NLE DESIGNED FOR FAST -PACED, COLLABORATIVE, NEWSROOM ENVIRONMENTS
Editing Features
Edit any file formats
Edit native, in any resolution
Fast and real time processing
Unlimited video/audio tracks
Advanced editing modes (TV mode, Film mode, Get Trim mode, Overlap mode)
Support for any Aspect ratio
3-point and 4-point editing
Fill the gap and fit to fill capabilities
SDI capture and batch capturing
Advanced Trim editing features
Out of sync display for clips on timeline
Dynamic timeline thumbnails and resizable layers
Customizable clip info and metadata display (speed, duration, markers, etc.)
Create Clips and Consolidate Clips from timeline
Timeline export in different format & codec
Remote mix down services (timeline export) via Incite Video Printer
Variable speed Jog/Shuttle modes
Group and ungroup
Unlimited Undo/redo
Insert and edit markers at the clip and timeline level
Select Region editing
Quick one-key creation of transitions on the timeline
Fully customizable keyboard and program settings
Customizable Autosave and Backup features
All formats XML & EDL export/import
VO directly on timeline
Video Effects
Transitions, picture-in-picture, blur, 2D, 3D and multi-layer compositing
Background rendering with exclusive Incite Task Server automation for batch rendering
Render over the network (render farming) using Incite Task Server and multiple render nodes
Multiple, customizable libraries with ready to use effects
Advanced key framing for all effects
Apply and save multiple effects on a single clip
Interpolated Speed Change filter
Advanced integration with compositing software like Adobe After Effects
OFX plugin
Full support for dual processor systems for multi-threaded, faster, and more efficient processing
Graphics and Titling
Real-time non-compressed alpha keyed graphics and titles
Customizable CG templates
Graphic format support: TGA, PBG, BMP, TIFF and JPEG
Real-time timeline update for saved changes to TGA files in Photoshop
Optional 3D Titling, animation and effects (Caspar CG)
Optional External Graphics layer (insert and sync external graphics through MOS ID)
Create graphics from video using Grab Frame or Grab Field
Audio Features
Professional top-of-the-line audio features and effects
Unlimited audio tracks
8 audio tracks in real-time
Sampling Rate: 32, 1, 48 kHz
Audio Quality: 8,16,24,32-bit
Real-time volume levels and timeline key framing
Real-time waveform display
Professional Audio FX and key framing: Delay, parametric EQ, flanger tone, dynamics and more
Audio VST Plug-ins: Reverb, de nosier, de scratcher, time compression and advanced limiter
Voice-over recording on the timeline with punch-in features
Real-time audio FX and advanced Audio FX rendering
Audio OMF export/import
Professional, customizable VU and peak meters
Customizable mixer configurations per timeline
Mixer configurations can be saved and exchanged between Incite applications
Analogue and digital scrubbing
Management & Networking
Incite Media Manager M2 included (Network-capable)
Robust SQL architecture ensures more efficient, network- based database management
Complete control over all project assets, both on disk and as part of project database
Customizable access, protection and GUI display based on user's Windows log-on
Advanced management of network media and
Shared access to network-based media and project assets
Direct access to project administrative and configuration tools through M2 interface
Multi-codec browsing and viewing of clips in M2
Advanced search and sort features for projects, local media and network media
Customizable metadata at the clip level; includes markers, marker groups, and scripting tools
Dynamic database architecture: Media Producer projects are transparent with any 3rdy party application
XML & EDL import/export
History of AutoSaves and Backup project files for fast reference and loading
Background rendering and encoding features with Incite Task Server automation
Render farming : Render and transcode over network nodes
Transcoding and conversion tools : Build in and customizable templates for clip conversion to multiple file formats
Remote mix down services (optional): Export to Incite Video Printer for remote network-based mix down and timeline export
System Requirements
Platform: Windows 10 & 11
Processors: Support for dual-processor systems as well as single processor; multi-threaded architecture support takes full advantage of today's multi cores technologies
I3,i5,i7
RAM: 16 GB RAM minimum
Graphic Card: Standard graphic cards
Video Codecs: a wide range of latest codecs and formats Video Input/Output: DeckLink board support
Audio Card: Sound Blaster compatible
How To Reach Us
Want to Send Us
A Message? Shoot!
Address: rue des Voisins 30, 1205 Geneva Switzerland