IT Broadcast
Top Reasons
to use IMC technologies Workflow
IMC offers today's broadcasters and newsrooms a range of products that improve collaborative workflow by streamlining the production process from ingest to editing to play out using network technology and a modern IT-approach to content creation.
The way our applications interact, exchange and share both media and projects throughout the production process is what separates IMC from our competitors. All IMC products share the same ergonomic interface that is easy to learn and operate. The applications are all based on the same dynamic and open architecture, transparently preserving project and media metadata throughout all phases of production for maximum efficiency.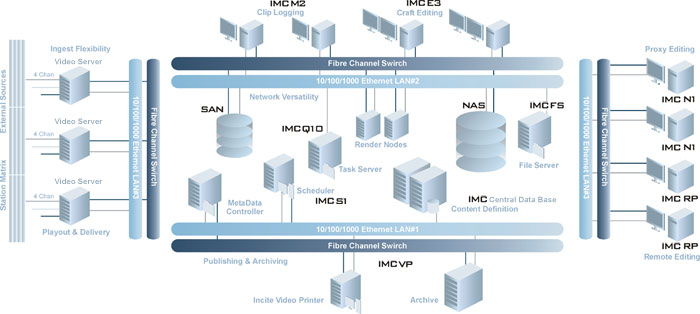 Why IMC Workflow delivers a greater return on investment and faster time-to-air
Each phase of production, whether it is logging, acquisition, transcoding, editing, rendering or playout, is handled with extreme flexibility and openness in shared storage environment. Producers can log clip selections while media is being digitized, proxy media can be simultaneously transcoded during ingest on CPU processed render stations, journalists and editors can get their scheduled tasks and edit their stories or finish projects without waiting for time-wasting file transfers, and completed projects can easily be published to server or printed back to tape depending on your needs. In addition, IMC products are extremely open and flexible when it comes to interfacing with 3rd party hardware systems and 3rd party software applications commonly used in the world of broadcasting. Log Ingest Manage Proxy Journalism On-line News Finishing & Packaging Playout.
The Incite Product Family
The IMC family of products is designed as a vertical and comprehensive set of applications, capable of handling all phases of video production
Reasons why IMC is the perfect solution for Post and Broadcasting
IT freedom: Full freedom and scalability to design the facility as you need
Top-end production: Analog/digital on-line editing delivers highest quality news, sports and broadcast-quality programming
Proxy/On-line transparency: Fully-integrated IMC newsroom (on-line) and journalist editing (proxy) applications. Journalists can create their stories on standard PCs and feed to the on-line station for final finishing
User Interface: Unified approach for all IMC applications greatly reduces the learning curve
Batch encoding: Create multiple formats from the same media during ingest. The process is run in the background and streamlines production for proxy to on-line editing transfers with no need to re-capture
Batch rendering and render farming: Distribute, monitor and automate tasks on dedicated render platforms over the network, or take advantage of background rendering on independent stations
MOS-style IMC project management: System and network administrators can control project management across the network
MOS-integration: Project scheduling and publishing via newsroom applications like Octopus
Advanced media management for logging, sub-clipping, previewing, searching, entering text and multiple metadata entries, accessing media over the whole network, task management control and much more
Unified metadata and project database architecture emphasizes communication and collaboration between all IMC applications. No need to export, all databases, metadata and media files can be instantaneously shared
Stay in step with Windows: IMC applications are certified on Windows 2000 and XP Professional including all latest service packs and updates
SAN and Gigabit-based networking: Integrate different types of architecture to match the needs of your newsroom or post facility
Task Server Automation: Automate and monitor all renders, conversions, exports and batch requests seamlessly in the background and distributing tasks over the network
Choose your Video Servers: Direct communication with popular 3rd party servers like Seachange, GeeServer, Omneon and others
Our Strength
IMC and Networking

IMC products, both software-based or hardware based, are at home in the Windows network environment, as a result IMC products are extremely versatile and flexible when it comes to networking and sharing its open architecture with other 3rd party hardware and software applications.
For example, IMC products can take full advantage of Ethernet, Gigabit (NAS) and Storage Area Network (SAN) environments. SAN is a powerful resource when editors need simultaneous access to shared media at high transfer rates guaranteeing effective throughput for real-time editing and FX. Gigabit networking is ideal for IT installations where IMC Newsmaker and IMC Incite MAM can take advantage of proxy (low-res) and DV (hi-res) editing. In addition, Gigabit is excellent for exchanging projects. For example, editors can cut low-res versions of their projects on IMC Incite MAM and then open the same project on IMC NewsMaker, IMC Editor or IMC HD Suite to finish the program at high resolution! All of this can be done without the need to recapture thanks to IMC project management and encoding tools which allow the simultaneous encoding of proxy formats during high resolution ingest.